Articles
Analyst insight from Euromonitor International
Read More
Articles
/
Ranked: Top 25 Coffee-Drinking Countries – Fresh vs Instant
Ranked: Top 25 Coffee-Drinking Countries – Fresh vs Instant
By:

Euromonitor Research
09/29/2017
Click around on the interactive map to explore the countries that drink the most fresh coffee and instant coffee per capita according to our 2016 edition global hot drinks industry research.
Your browser does not support iframes.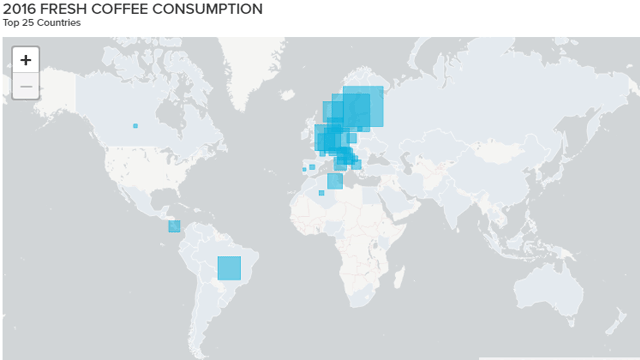 More Key Statistics about the Global Coffee Market:
The world consumed over 7 million tonnes of coffee in 2016
The top three countries in terms of coffee consumption are Brazil (1.1 million tonnes), the USA (949 thousand tonnes) and  Indonesia (682 thousand tonnes)
Brazil overtook the US in total coffee consumption 2014
Nestlé is the world's largest coffee company, with 22% global market share in 2016.
Global volume growth of coffee pods fell to single digits for the first time in recent history in 2015, and continues to decelerate. It is predicted to be just 5% annually by 2021. 
Globally, pods represent the smallest total category in coffee by consumption, accounting for just 6% of all coffee brewed globally in 2016.
An astounding 89% of global pod value growth over the  forecast period, 2016-2021, will take place in Brazil, North America and  Western Europe. 
Starbucks was the leading specialist coffee shop brand in Chile in 2016.
Consumption of coffee in Morocco is increasing, despite tea being the traditional national favourite in Morocco, thanks to growing westernisation. 
Japan, Taiwan, and USA had the largest per capita consumption of RTD (ready to drink) coffee in 2016. 
Venezuela, Brazil, Dominican Republic, Mexico and Chile had the highest fresh coffee sales in Latin America in 2016.
Folgers, Starbucks, and Maxwell House were the top 3 coffee brands in North America in 2016.
Nespresso, Nescafe, and Lavazza were the top 3 coffee brands in Western Europe in 2016. While in Eastern Europe, were Nescafe, Jacobs, and Tchibo.
Asia Pacific is the key region for RTD coffee globally, with over 80% of global sales.
North America is the world's second most important region for RTD coffee. While its USD2.9 billion in annual sales are still a long way from Japan's, the region will lead the world in growth by 2021.
About Our Research
Request a complimentary demonstration of our award-winning market research today.
Request Demo